Our history of supporting autistic individuals and their families
Every family has a story — here is ours…
Autism SA was founded in 1964 by autistic people and their families and was the first organisation of its kind in Australia.
The founding members were families driven by the desire to ensure that they had access to the best information, education and support. They also advocated for acceptance and understanding and encouraged research and leadership in the community.
Since its beginnings, Autism SA has been single-minded in its focus on supporting the autism community and has been at the forefront of service development and advocacy, with a strong legacy of being responsible for introducing many firsts in South Australia and nationally.
Autism SA prides itself on a strong values-driven culture of empowering and supporting autistic individuals.

Our
Vision
Each person on the autism spectrum lives the life they choose in an inclusive society

Our

Mission

Is to be the first choice for individuals on the autism spectrum, supporting them to turn their potential into reality

Our

Values

We care about People
We have Integrity and Honesty
We Work Together
We are Innovative and Problem Solve
We provide Dignity and Respect
We have Ambition
We harness Heart
Today the organisation has a long and rich history of being a recognised leader for the provision of specialised consulting, services and supports to people on the autism spectrum, their families and the broader community.
Autism SA has over 20,000 registered individuals on the autism spectrum. Our team of more than 500 staff is dedicated to providing a continually expanding range of quality, innovative services and supports that meet the specific needs of individuals and their families, as well as associated professionals and organisations.
Our team operates from various locations including clinics, in-home, the wider community and in schools.
We are also highly active as a thought leaders and in providing a strong representative voice for people in our community to ensure that autism remains relevant and to improve life outcomes for people on the spectrum.
We do this by delivering, building capacity and facilitating the very best information, connections, expertise, education, services and support, and by being a lead advocate for all things autism-related.
Delivering, building capacity and facilitating the very best information, connections, education, services and support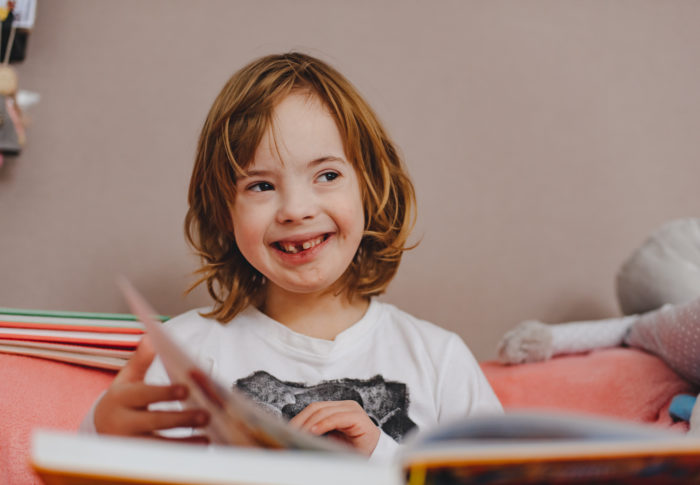 Support for the autism community in South Australia
Our purpose is to make a difference.
Our strategic goal continues to be for Autism SA to remain true to its foundations whilst taking advantage of the biggest social reform for the disability sector, the National Disability Insurance Scheme (NDIS).
Autistic individuals are at the centre of everything we do and we continue to build on our strong foundations to be the 'autism-friendly go to' for people on the spectrum over their life span.
Autism SA continues to redesign and evolve how we operate to ensure that autistic individuals can get more of what they want and live the life they choose.
Easy to engage with Autism SA
We embrace new and innovative ways of providing responsive and adaptable services and partner with the autism community to identify where there are gaps in services, supports or policies so we can advocate for change.
We support and encourage activities that build community capacity and create environments that are conducive to improving the social and economic contribution and outcomes of people on the spectrum.
This includes being the home of the Autism Friendly Charter, through which Autism SA has made a significant contribution to enabling businesses, recreational facilities and other iconic places around the nation to become autism-friendly.
Empowered staff connected to the Autism SA vision
We are inspiring a culture of engaged, invigorated and empowered staff who are connected to our vision, as well as streamlining our processes so that we are focused on quality, safeguarding outcomes and implementing systems that underpin the continually changing environment in which we operate, enhancing the customer experience for individuals and their families.
Delight you with the Autism SA experience
Our policy is that all of our activities must be sustainable and meet our high standards for service quality and ethical practice and generate positive, person-centred outcomes for individuals, families, carers, and others supporting our community.
Our commitment to you is to be sustainable and fund our aspirations
Autism SA advocates for policy change locally and nationally. Autism SA is an elected member of the National Disability Services (NDS) State Committee, and NDS National Youth and Children's Subcommittee. We are also a partner of the Australian Autism Alliance and a Board member of the Australian Advisory Board on Autism, both of which have representation on the NDIA Autism Advisory Board.
 Being a strong representative voice as the autism community is the reason we exist.
Download Our Year in Numbers
Our Year in Numbers 2019/20

See a snapshot of how we have supported, advocated for and worked with the autism community over the last year.

Download Our Year in Numbers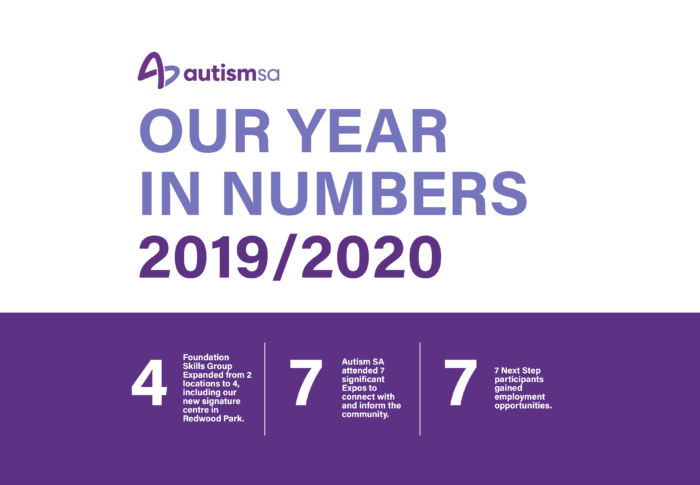 Major milestones in the history of Autism SA
These include:
First National Conference on autism in 1967
First national federation of service providers specialising in autism in 1969
Operated the first autism-specific school in South Australia, opening its doors to students on the spectrum in 1974
Published the first autism journal in 1979
First with specialised employment services
Developed the first recognition awards in 2007 to celebrate achievements within the autism community, which evolved into a national program
Initiated the first national Future Leaders Program to involve and engage people on the spectrum as part of the 2013 Asia Pacific Autism Conference
Researched and developed the iModeling™ App, and
Developed and launched in 2016 Australia's first Autism Friendly Charter to build friendly business and workplace environments.
Other Milestones
Autism Conference Series
The Spectrum
North and South site
Download our Milestones
Autism SA Milestones