Media enquiries
If you have a media enquiry and would like to talk to someone at Autism SA, please contact admin@autismsa.org.au or 8379 6976.
Current and Previous Media Releases
May 2022 - Announcing Autism SA's CEO Appointment
Autism SA, South Australia's peak body for providing services and advocacy for autistic individuals and their families, carers and support networks, is pleased to announce the appointment of Helen Graham to the position of Chief Executive Officer.
Helen has a 20-year history of working in the disability, employment, and community services sectors, spending the last 13 years of her career in senior management roles. Helen commenced with Autism SA in May of 2021 and in her most recent appointment as Executive Manager, Service Delivery Excellence, oversaw the delivery of commercial services across all service delivery portfolios.
Read the full media release
Feb 2022 - Next Chapter for Autism SA
With enormous pride in what has been achieved in her 5.5 years at Autism SA our CEO, Jenny Karavolos has advised that she will be leaving her role at the end of her current contract in April 22. Jenny has a long history with Autism SA in her roles as Board Director, for 8 years, and CEO for 5.5 years.
Please click the button below to read this media release.
Next Chapter for Autism SA Media Release
Aug 2020 - Topping out at Tonsley with Autism SA's new southern hub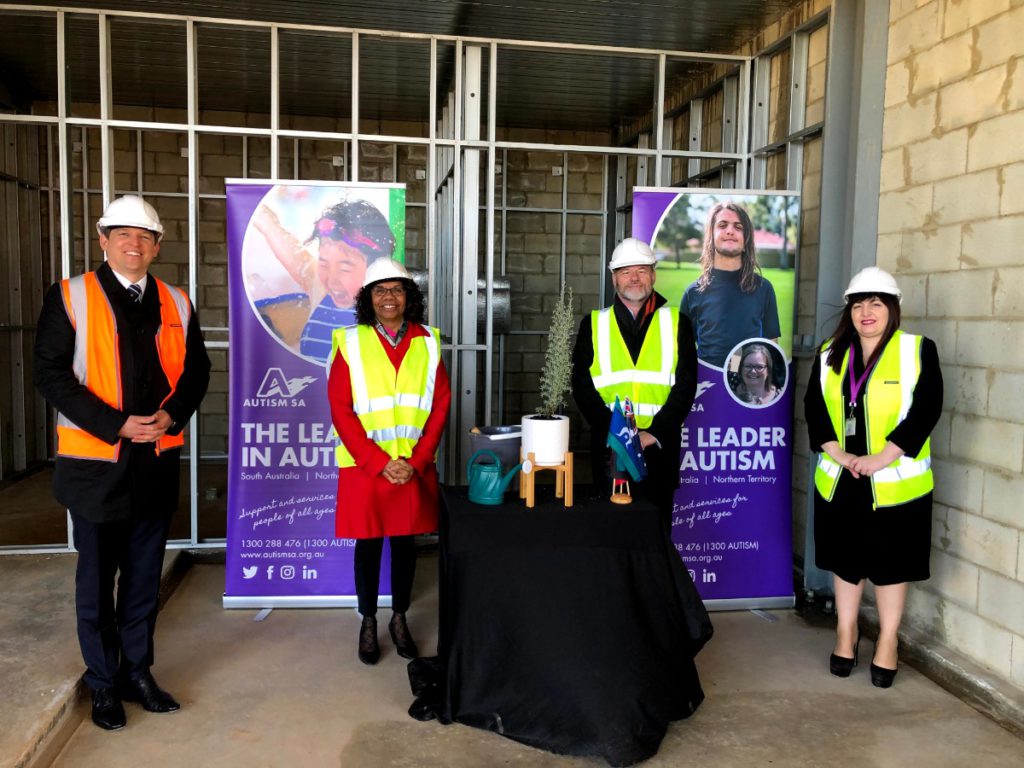 We are thrilled to announce our newest location at the Tonsley Innovation District! Autism SA's exciting new site is well underway and has 'topped out'.  Thanks to the support of Renewal SA, the Tonsley Innovation Precinct, and Tonsley Collective that we will be opening a new Southern Hub early next year, located in the vibrant Tonsley precinct – a second state-of-the-art innovative space complementing the already well-established Northern Hub located at Elizabeth.
To celebrate the pinnacle of reaching the highest point of the building commencing, Autism SA held a 'Topping Out Ceremony'. Originally a Nordic custom, a Topping Out Ceremony is performed when a building project reaches its highest point. "In Autism SA's context, it is a reason to come together to celebrate the building, the land upon which it is being built, its future purpose and the activities and outcomes that will occur within it," shared Jenny Karavolos in her opening welcome to the small group gathered for the event.
The main focus of the mornings event was the dedication and planting of a native plant – as a symbolic commitment to Autism SA's dedication to inclusion and reconciliation. The young plant, a native Grevillea Lavandulacea, was chosen to symbolise social change, inclusion and acceptance of autistic individuals in our society as well as to symbolise the commitment to reconciliation, and the growing and strengthening relationships with Autism SA and Aboriginal and Torres Strait Islander People's.
Rosemary Wanganeen, the founding CEO of the Sacred Site Within Healing Centre attended the Topping Out Ceremony, sharing with those gathered a special Welcome to Kaurna Country, and actively participating in the planting of the Grevillea. Rosemary shared that she "likes to use her Welcome to Country to incorporate an educational component …" and that the event itself was "reconciliation in action."
Autism SA's newly appointed Chair, Richard Price, and Phil Dautel the Tonsley Precinct Director also attended the event, sharing inspiring and heartfelt words, and participating in the planting ceremony.
The construction of the Southern Hub is the pinnacle of a successful twelve months.  New directors, Chair Richard Price Treasurer Mark Morelli and Dianne Rogowski are very excited about Autism SA's direction. Richard Price, the CEO of Defence SA and the South Australian Space Industry Centre (SASIC), has worked within the Defence and Public Safety sectors for over 25 years, bringing to Autism SA international experience in leadership, business development and engineering. Richard was voted in as the new Autism SA Chair at the last Annual General Meeting on 27 November 2019.
Mark Morelli is an Advisor and Director at Commercial & Advisory Partners and brings his experience as a Chief Financial Officer (CFO) across many sectors, both in Australia and overseas, to the organisation. Mark has also been Company Secretary and CFO of Territory Generation, the largest gas user in the Northern Territory, and Board Advisor to the Power & Water Corporation.
The most recent board appointment, who also attended the Ceremony at Tonsley, is Dianne Rogowski. Dianne has a long history of diverse senior leadership roles in banking, and past experience as the CEO of the City of Tea Tree Gully. Dianne brings not only her experience and leadership skills to the organisation, but also a strong sense of community through her lived experience.
Jenny Karavolos shares her delight to be working with the new additions to the Board of Directors "The appointment of this calibre of board members to the organisation shows that we are a progressive organisation, embracing the new environment and enables us to continue to be placed to be a strong advocacy voice for autism. Through our state-of-the-art spaces and innovative practices, we are forging the way forward for social change and inclusion for people on the autism spectrum in all walks of life. We welcome Richard, Mark and Dianne to the Autism SA family".
The little Grevillea plant will be replanted into the roof top sensory garden of the wonderful new building when construction is complete towards the beginning of 2021, where it can be admired and enjoyed by those visiting the building for many years to come.
Jan 2020 - The Spectrum Website Launch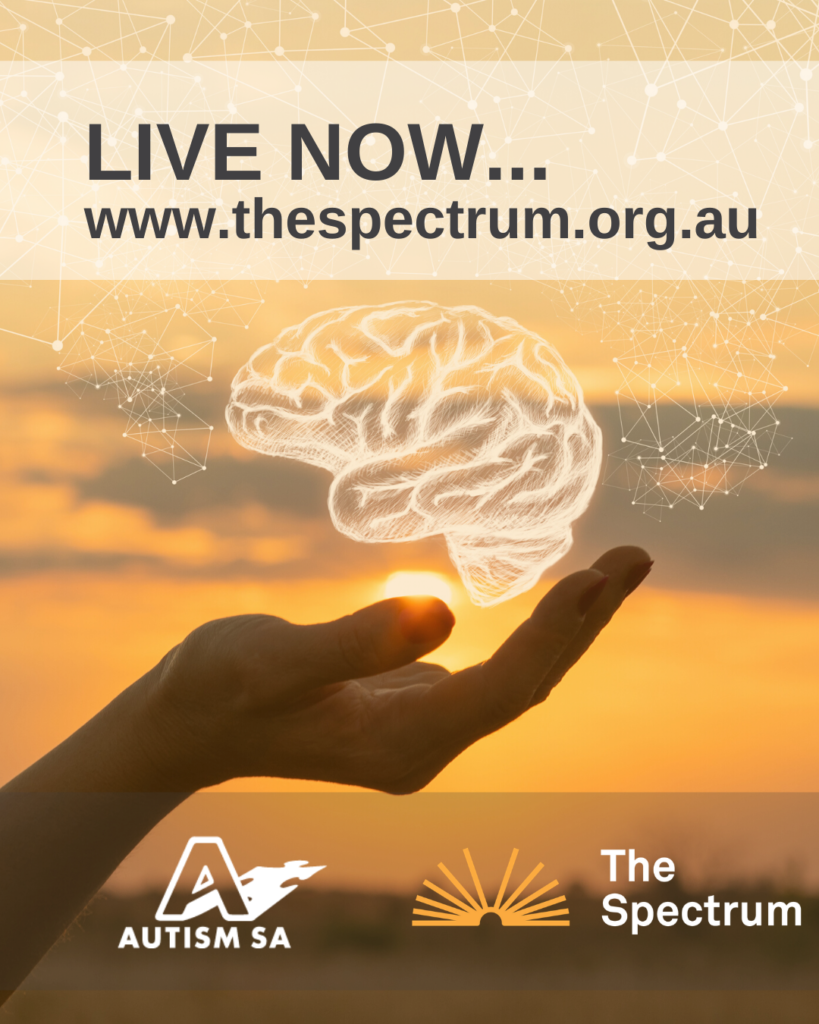 Autism SA is excited to launch The Spectrum, a national online resource providing answers to your questions about autism.
In 2018, 205,200 Australians were reported on the autism spectrum by the Australian Bureau of Statistics (up by 25% since 2015).
This has driven an increasing need for autism-related information across the nation, with Autism SA receiving over 10,000 enquiries in the last two years. The enquiries have been wide-ranging, coming from parents, educators, GPs and other health care workers, autistic teens and adults, family members and carers, among others.
Working closely with individuals on the spectrum and families, the broader autism community, other experts and allied health professionals, Autism SA has developed an online resource called 'The Spectrum' which provides 24/7 access to evidence-informed autism information. The creation of the website has been funded by the NDIS through an Information, Linkages and Capacity (ILC) Building – National Readiness Grant.
Chief Executive Officer of Autism SA Jenny Karavolos says, "The Spectrum was born out of the need to make easily accessible pre- and post-diagnostic information for families, individuals and professionals to aid them with pertinent and reliable information. The core aim of this digital resource is to address the primary questions that people may have regarding autism".
During the research and development phase of the website, many families and individuals across the autism community were consulted and they contributed to the development of the website by providing lived experience, guidance, content, videos and generously sharing their own stories. "One of the main things I like to explain is that people with autism have varied abilities and character traits, there's not one single experience of autism" says Zoran Bekric, a member of the site's reference community.
"This one-stop,  digital resource aims to  meet the needs of our community by offering evidence-informed information to people when they need it and when it suits them – whether it's before school or work, late at night or during that very short time in-between life's demands !" comments Jenny Karavolos. The information content is based on harnessing the breadth and depth of many years of rich expertise.
The website's design and content provide a user friendly and accessible resource, written with an Easy English approach and translated into five of the most commonly spoken languages in Australia. The Spectrum answers the most commonly asked questions about autism and provides a comprehensive resource list to help guide visitors towards more information and support, during any stage of their autism journey.
"We're grateful for the support and contribution of the autism community and the NDIS to develop this great resource. We are delighted we can make this available and we are confident that it will make a significant difference to Australians seeking reliable information and support about the topic of autism in their families, schools, workplaces and communities", says Jenny.
Nov 2018 - A new state of the art sensory and social space
A new state of the art sensory and social space for autism thanks to variety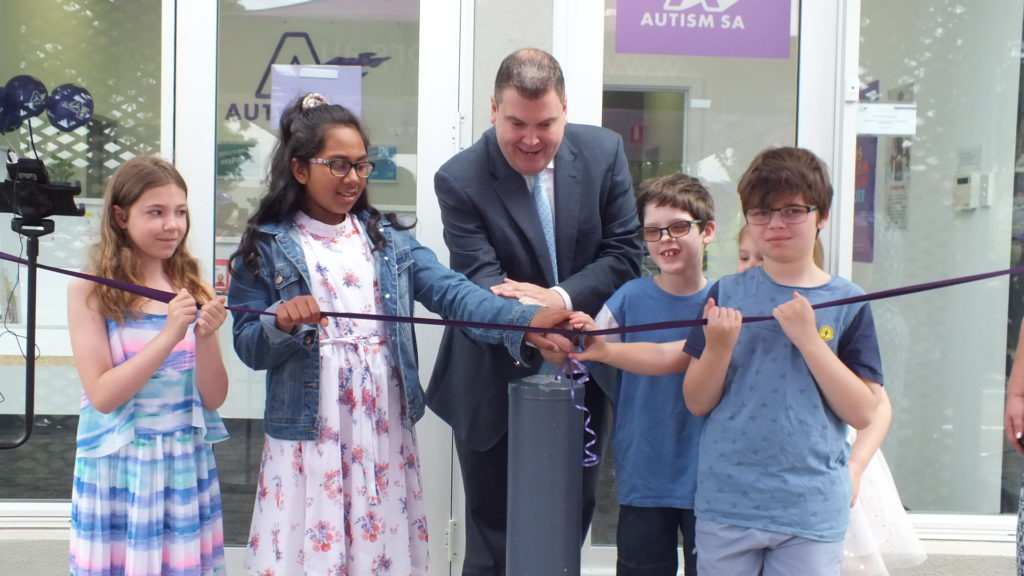 Autism SA, on November 13, officially opened its state-of-the-art sensory and social space at the organisation's new service and support facility in Elizabeth, thanks to a grant from Variety – the Children's Charity.
Primarily designed for individuals on the autism spectrum, their families and carers, Autism SA's Northern Hub includes a range of therapy and consultancy rooms, a training facility, day options spaces and the Variety Sensory and Social Space.
This purpose-built space will continue to evolve with new technologies added to deliver a sensory haven and safe space for kids and teens on the spectrum. The first stage is now complete and offering exciting new equipment, imported from Spain, to provide a fully interactive experience through the synchronised use of a projector, LED lighting, a bubble machine, an LED ball pit, pulsating cushions, fans and aromatherapy.
Jenny Karavolos, CEO of Autism SA, highlights the importance of such a space in the northern suburbs, "Autism SA's vision is for children and teens living with autism and other special needs – and their siblings, parents, carers and friends – to have access to safe spaces to learn, socialise and be exposed to new experiences. We're so grateful that Variety SA was able to share in our belief in the benefits of this exciting facility in the northern suburbs".
The grant from the Variety Sprout Fund has also enabled Autism SA to convert the space into a therapy site, offering soft play equipment, like stairs, tunnels, slides and mats, as well as a range of art and craft supplies.
"It is a totally demountable, adaptable space providing a structured and motivating learning environment. It's such a delight to see the smiles on everyone's faces when therapy becomes fun!", say Ms Karavolos.
"Variety is thrilled to assist 1,200 additional children living in the northern metropolitan areas through the creation of this sensory space. This space is designed to create better outcomes for children living with autism, by allowing them to be calm and focused, assisting with gross motor development and enhancing social skills. It is another example of how Variety addresses the growing unmet need in our State. We sincerely thank all of our supporters who enable us to continue to do such positive work for the community" says Variety SA CEO, Mark McGill on providing this generous support.
The entire room is controlled with a single touch on the interactive floor mat or by an iPad. This gives the user complete control over their own experiences, enabling them to choose their own adventure, which is an essential tool for life.
"Just imagine you are looking at an image of the ocean, the room will look, feel and sound like the ocean. You can then easily change the experience to be in a rainforest as your next adventure. This provides a real-life experience for an individual that they may not otherwise be able to have. The sensory elements, paired with activities based around the child's interests, encourages engagement and supports successful task performance" says Ms Karavolos.
The next stage of the Variety Sprout Fund Grant will be used to provide innovative gaming and experiential experiences, primarily aimed at teens on the spectrum in the North. And this will be followed by the development of a similar space in the South, to be opened in 2020.
Located at 1/57 Elizabeth Way, Elizabeth, the Northern Hub will be launched on 13 November 2018 at 10am. On the day, invited families and guests will have the opportunity to observe and test out this innovative equipment in Autism SA's new Northern Hub.